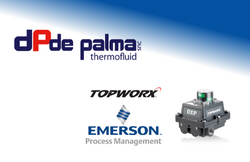 We are pleased to introduce the TopWorx ™ HART 7 position transmitter option for its D-Series switchbox.
The HART 7 position transmitter maximizes the communication protocol and the advanced diagnostic and monitoring capabilities.
Key Features and Benefits
The TopWorx HART 7 position transmitter is easy-to-use LCD display and navigation buttons local 5-point calibration for more accurate setup on linear applications.
Advanced diagnostic capabilities include measurable values such as: open / close valve percentage, open / close dwell time, open / close valve transition time, and last open / close stroke time.
Other device features include:
• LCD display indicates error codes, valve position, device temperature, and calibration modes
• Limit switch position monitoring
• Integrated vibration-resistant terminal strips for easier setup and greater connective reliability
• Compact, aesthetically pleasing design for installation in small spaces
• Spare auxiliary input that can be used to monitor any dry contact switch over the HART 7 network
• Global certifications for application flexibility
Segments and Applications
The TopWorx HART 7 discrete valve controller enabled automated on / off valves to communicate critical valve information for the process industries. Our solutions enable plants, platforms, and pipelines to manage and control more intelligently and efficiently under the most demanding and extreme conditions.
How to Order
The TopWorx D-Series switchbox and HART 7 position transmitter are backed by Emerson's global support network.
They can be purchased simply contacting us at info@thermofluid.it .
Questo post è disponibile anche in: Italian