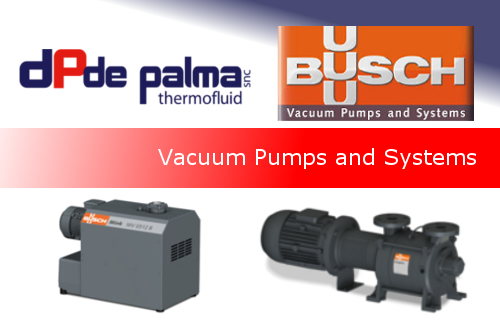 Today we are pleased to inform you that De Palma Thermofluid is distributor for Busch.
Busch Vacuum Pumps and Systems is one of the largest manufacturers of vacuum pumps, blowers and compressors in the world.
Product range comprises the largest selection of solutions for vacuum and overpressure technology in all industry sectors worldwide.
Deaeration of Seawater
Secondary recovery by means of water injection is an essential feature of crude oil production, and is often a crucial factor in achieving and sustaining economically viable production rates.
The water used must be deaerated to remove oxygen, which would have an adverse effect on sulphate removal systems.
Vacuum deaeration is the most commonly employed method in the naval industry today: packed towers are continuously evacuated by a vacuum system, extracting oxygen and other gases.
Typically, two stages of mass transfer packing are used.
Dolphin
Liquid Ring Vacuum Pumps and Compressors
Dolphin liquid ring vacuum pump systems are ideally suited to this application, as their robust construction permits operation in hostile environments such as offshore drilling rigs.
Ultimate pressure: 33 – 130 hPa (mbar)
Overpressure: 2 bar (g)
Nominal pumping speed 50 Hz: 25 – 10900 m³/h
Nominal pumping speed 60 Hz: 31 – 10900 m³/h
Dolphin pumps are the robust and proven liquid ring vacuum pumps from Busch. They are available as single or two-stage pumps with a directly flange-mounted motor, or assembled on a base plate.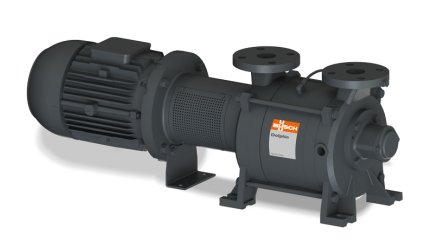 Their proven operating principle allows them to be used in all industrial sectors. Even critical applications such as the evacuation of saturated gases and vapours are easily managed by Dolphin liquid ring vacuum pumps.
Dolphin liquid ring vacuum pumps impress with their robust design. Thanks to the modular design of the base plate versions, custom systems can be produced easily to match specific processes.
Application-orientated
Dolphin liquid ring vacuum pumps are designed for continuous operation. Several sizes and versions are available, and the wide range of accessories and different workshop options allow vacuum pumps to be adapted to any process. Dolphin LX liquid ring vacuum pumps are also available in ATEX versions. Dolphin liquid ring technology can also be used for overpressure generation: Busch supplies Dolphin liquid ring compressors for overpressures of up to 2 bar (g).
Aeration with Overpressure
Where are overpressure aeration systems employed?
Overpressure aeration systems offer an economical, efficient and reliable way of supplying air to fish in breeding tanks. Similar aeration systems can be used to provide air, respectively oxygen e.g. to bacteria in biofilters and sludge tanks.
Which Busch series types are particularly suitable for overpressure aeration applications?
Tyr rotary lobe blower and Samos side channel blowers are perfect for fish farm and biofilter applications, as they have a proven reputation for reliability and efficiency.
Aeration of Sludge Tanks
Sludge tank aeration is a bacterial process that removes physical, chemical and biological contaminants from waste water, producing pure water and solid waste. Air or oxygen is pumped through the source waste water, stimulating the bacterial purification process.
The bacteria oxidize biological matter and remove phosphates, carbon dioxide, ammonia and nitrogen. Once the waste water has received sufficient treatment, the clarified liquid is transferred to settling tanks. The water extracted from these settling tanks usually undergoes further treatment before use. The separated solid waste may be sent for disposal or used as fuel to produce energy.
Mink
Dry Claw Vacuum Pumps and Compressors
Mink claw compressors are the best choice for sludge tank aeration.
They use the claw technology principle, which offers the most economical and reliable solution available for bacterial air supply.
The air is compressed without operating fluids and so runs virtually maintenance-free.
Ultimate pressure: 20 – 200 hPa (mbar)
Overpressure: 2 bar(g)
Nominal pumping speed 50 Hz: 40 – 950 m³/h
Nominal pumping speed 60 Hz: 40 – 1150 m³/h
Oil- and contact-free operation
Mink claw vacuum pumps have been developed specifically for industrial applications in which constant vacuum, high pumping speed and completely oil-free compression are essential. Mink claw vacuum pumps operate contact-free; neither oil nor operating fluids are required during compression.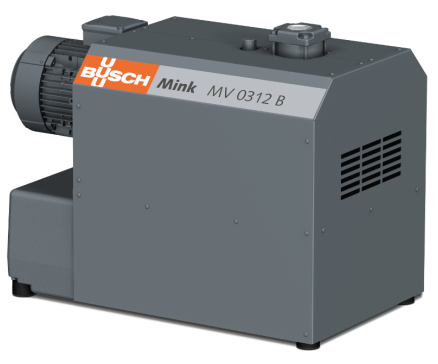 Highly efficient 
The sophisticated claw technology of Mink claw vacuum pumps permits extremely high efficiency levels to be achieved, reducing energy consumption and increasing performance. These vacuum pumps operate contact-free and require almost no maintenance. In practice, this means 60% lower energy and operating costs compared to conventional vacuum generators.
The same claw technology is also used for Mink compressors. They provide oil-free overpressure at up to 2 bar (g) and volume flows of up to 580 m3/h.
For any request or information please contact us.