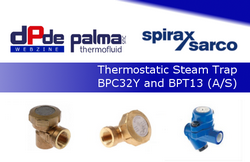 DPT Webzine is the periodical created to inform about market news and especially about our best partners brands' products – such as Spirax Sarco, Danfoss, Belimo, etc. – presented with insights and technical sheets.
Spirax Sarco: company focused on steam technical solutions for industrial and marine purpose, is our partner for more than 20 years and – for this reason – we are able to offer a wide range of products ready in stock.
Today we're glad to present the Thermostatic Steam Trap BPC32Y and BPT13 (A and S version).
Are available data sheets of both the steam trap: BPC32Y and BPT13.
If you need to order or simply ask futher information, do not hesitate to contact us: our technical staff is at your complete disposal!
–
Questo post è disponibile anche in: Italian